Special Wednesdays
Every Wednesday, instead of afternoon classes, we feature an off campus visit to world class corporations in special high tech industrial zone and economic development zones, as well as cultural and scenic sites. Destinations are left solely to the discretion of our program director with consideration of availability, special local events, and weather.
Weekend Trips
Gulangyu Tour
Our city tour will begin with the scenic island of Gulangyu, also known as "drum waves" island named after the beautiful sounds of waves splashing ashore. The island's colorful history resulted in a myriad of architecture styles, both Chinese and European, thus its title as the World's Architecture Museum. Gulanyu is also the origin of many world famous musical geniuses. About two thirds of the inhabitants of the island own and play piano, violin, and other musical instruments. The Museum of Pianos has a collection of precious historical pianos from all over the world, where you will be able to learn the history and development of this incredible instrument. The fairyland Shuzhuang Garden, in which the Museum of Pianos resides, features heaps of rock connected in a zigzagging pattern (Nine-Bend Bridge), exposing tranquil views of rare plants, fishponds and the South China Sea. Before we end the day's tour, don't forget to shop for island jewelry, taste unique local foods, or just relax and have fun on the beautiful beaches.
Buddhist Nanputuo Temple and the 10,000 Stone Botanical Garden
The Ten Thousand Stone Botanical Garden is a world renowned research center on plants. The plant diversity reachs above 4000 different species! Odd shaped rocks etched with inscriptions, mysterious caves, and flower nurseries lining the beautiful lake, make for a million post card perfect pictures. After hiking through the botanical garden, our trip will take us to Nanputuo Temple, situated at the foot of Wulaofeng, the Mountain of Five Old Men. The temple has a long history since the Tang Dynasty (618-907) and includes the Devajara Hall (Hall of Heavenly Kings), the Mahavira Hall (Trinity of the Three Ages), Dabei Hall (Hall of Great Compassion), and the Sutra Keeping Pavilion. The temple houses many Buddhist sculptures, images, rare ivory and wood sculptures from Burma, as well as ancient Buddhist scriptures. Lastly, the vegetarian cuisine at Nanputuo is famous all over China and students will enjoy a delicious meal cooked by the monks at the temple.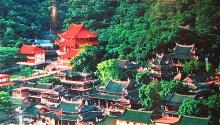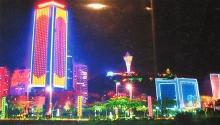 Optional Trips
Weekly Golf Excursion
Every week, students with an interest in practicing and learning to golf will embark on a fun excursion to one of China's finest golf facilities. Both practice range and game range are available. Trainers are available on request. There will be a total of three trips. Additional costs apply.
Photoshoot
Want to know how it feels to be a supermodel for one day? Then this is a great opportunity for you! You will enjoy a fun day at a state of art studio having your makeup and hair done by people who know beauty the best. Then step into a professional photo studio, and the photographer will snap away as you strike your poses. A total of four different looks and outfits are included. You may bring you own outfits or pick from the hundreds of dresses and suits available at the studio. After your photoshoot, your pictures will be developed and you will pick out 20 pictures that you like the best to be incorporated into your cd and your own very personal supermodel album, each individually designed by our professionals at the studio. You will also pick out your two favorite pictures to be put into a high quality 17 in. by 19 in. wooden professional frame and a 7 in by 10 in crystal frame.
This photoshoot package costs $195 in addition to all summer camp program fees. Package includes the photoshoot, up to four different makeup and hair, up to four different outfits, 20 pictures on cd, a pofessional photoalbum and two framed pictures.